INVITED
Oleg Khramov,

Deputy Secretary of the Security Council of the Russian Federation

Andrey Krutskikh,

Special Representative of the President of Russia, Director of for International Information Security Department, Ministry of International Affairs

Maxut Shadayev,

Minister of Digital Development, Communications and Mass Media of the Russian Federation

Vladislav Fedulov,

Deputy Minister of Economic Development of the Russian Federation

Oleg Dukhovnitsky,

Head of Russian Agencies of Communications

Nikolay Murashov,

Deputy Director of the National Coordination Center for Computer Incidents

Fang Binxing,

Chairman of Cloud Security Association (CSA) of China

Yale Li,

Chairman, Cloud Security Alliance Greater China Region (CSA GCR)

Vitaly Liutikov,

Deputy Director of the Federal Service for Technical and Export Control of he Russian Federation

Andrey Lipov,

Head of the Federal Service for Supervision of Communications, Information Technology, and Mass Media

Andrey Tcherezov,

Deputy Minister of Energy of the Russian Federation

Elena Martynova,

Deputy Head of the Federal Service for State Registration, Cadastre and Cartography

Vadim Uvarov,

Director of the Information Security Department of the Bank of Russia

Vasily Pushkin,

Director of the Digital Economy Development Department of the Ministry of Economic Development of Russian Federation

Pavel Kuzmin,

Director of the Department of Digital Transformation and Big Data of the Ministry of Education of the Russian Federation

Alexey Moshkov,

Administration of the President of the Russian Federation

Eduard Lysenko,

Minister of the Moscow Government, Head of the Information Technology Department of Moscow

Konstantin Denisov,

Deputy Director General of State Corporation "Rosatom"

Sergey Demin,

Deputy General Director for Security of Roscosmos Corporation

Nikolay Volobuev,

Deputy General Director of Rostec Corporation

Boris Miroshnikov,

Vice President of Citadel GC

Alexander Zubarev,

Information Security Director of Huawei Russia

Alan Salbiev,

Head of the Department of North Osetia-Alania Republic for IT and Communications

German Lopatkin,

Minister for Information Technologies and Communications of the Rostov Region, Russia

Pavel Tsiporin,

Director of the Department of Information Technologies and Digital Development of the Khanty-Mansiysk Autonomous Area - Ugra, Russia

Maria Rudzevich,

Director of the Informatization Department of the Tyumen Region, Russia
IN FOCUS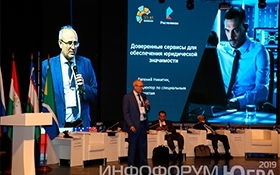 International Conference on Information Security "The Future of Digital Security" takes place in the Moscow Region in two formats of face-to-face participation and online broadcast with teleconference of experts from Russia and China.
далее »
Russia is one of the leaders in information security. China is a source of digital innovation. Cooperation between Russia and China is determined by Intergovernmental Agreements. Time to exchange views on the most important tasks and agree on joint projects.
далее »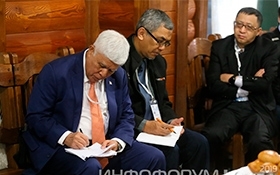 Оnly through joint efforts of the state, business, scientific and user communities is it possible to create a comfortable and safe digital future for everyone. That is why among the participants of the Infoforum there are officials, businessmen, customers of digital solutions and well-known experts from Russia and China.
далее »
© 2001 - 2021 НП "Инфофорум",
infoforum.ru
Электронное СМИ, Эл. № ФС77-27767 Минпечати РФ