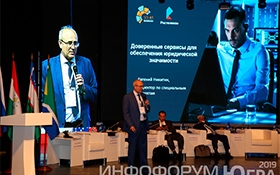 International Conference on Information Security "The Future of Digital Security" takes place in the Moscow Region in two formats of face-to-face participation and online broadcast with teleconference of experts from Russia and China.
Depending on your goals and objectives, we offer the opportunity of participating in the full two-day conference program or to participate only in certain parts of the conference that is of most interest to you. The conference format includes three separate sessions, which allows scheduling work on the conference depending on your current workload.
The venue of the conference is Klyazma-Resort, the health complex of the Administrative Department of the President of the Russian Federation, which offers opportunities for business negotiations, meetings, and brainstorming sessions. Various comfortable halls, a large open area, sports and recreation areas are present in Klyazma.
The list of topics of the sessions can be changed as requests for performances are received, as well as by wishes of the participants.
---